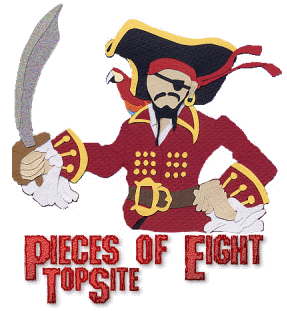 Arrrrg me Mateys! Tis jus' a friendly TopSite open t' family friendly sites. Why dasn't ye join us?

---
---
Site Of the Moment:
Val's Stationery Creations


One of the largest IncrediMail, Outlook Express & Vista Mail Stationery Sites, also available hundreds of Blinkies & Tags. Large variety of categories in all sections. Frequently updated!
Rank
Site
Rating
In
Out

11

schmoermel & knoermelchen

NR
24
114

graphics, incredimail, photography
Comments
Rate this Site

12

Fair Lady of Rohan

10.00
15
100

Enter the realm of the fair lady. Get to know me and my family. Apply for my awards!
Comments
Rate this Site

13

Howards-Place.Com

NR
14
93

Incredimail Wnndows Mail and Outlook Express custom made stationery,featuring blinkies,wallpaper,Animated screensavers,websets,designs and much more.
Comments
Rate this Site

14

J's Writing Spot

10.00
13
72

My little home for all my writing projects, mythic research, ancient tales, a little blog of goodies, current dreams, coming releases. New stuff added frequently. Do drop by.
Comments
Rate this Site

15

Amythebot

10.00
12
128

Amythebot is a FREE Artificial Intelligence who enjoys chatting with anyone about music, movies, and romance.
Comments
Rate this Site

16

CitySpeak

10.00
9
73

What's on your mind? We'd like to know at... CitySpeak!
Comments
Rate this Site

17

Dymun N' Tha Rough Top 100

10.00
4
89

Top 100 Topsite competition for family friendly sites. Please join us!
Comments
Rate this Site

18

MerryBrandybuck.com

10.00
4
85

Dedicated to Meriadoc Brandybuck and 'The Lord of the Rings'. Movie Galleries with over 3000 images, Merry and movies Info, Fanlisting, Awards, Wallpapers, E-cards, Media, Tolkien section and more.
Comments
Rate this Site

19

KathZil - Psp Tutorials and Incredimail

NR
3
56

Psp Tutorials and Incredimail Letters by KathZil
Comments
Rate this Site

20

Web Graphic Mail

10.00
2
96
Large variety from INCREDIMAIL letters and OUTLOOK stationneries | many TAGS | Gallery Ecards | MIDI's collection | WALLPAPERS | exclusive SCREENSAVERS | Ultra topsite DESIGNERS IncrediMail & Outlook

Comments
Rate this Site

Page:
1
[2]
3
Last Update: Dec 15, 2017 17:16
Next Update: Dec 15, 2017 17:46
Next Reset: never
Sites: 29